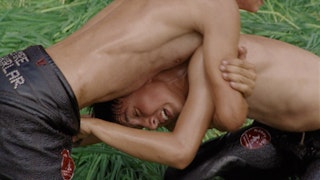 PLAYING MEN
Cinematography
PLAYING MEN
It's about playing, about the beauty of the game and the men that play it. They play, deadly seriously, yet with airy joy somewhere by the Mediterranean. In a time that may or may not be ours. Wrestling, rolling a cheese through village streets or the rapid-fire reciting of the right numbers are occupations of the highest importance. The filmmaker shots everything with serious lightness until he hits a creative block...
A feature documentary by Matjaž Ivanišin
Cinematography by Gregor Božič

Shooting format: S16MM, S8MM
FID Marseille, Rotterdam IFF, Sarajevo Film Festival, Belfort Entrevues Film Festival, Centre Pompidou Paris, Museum of the Moving Images NY, Auteur Film Festival Belgrade, ZagrebDox, True/False, Crossing Europe Film Festival Linz, Indie Lisboa, Documenta Madrid, Docaviv, Olhar de Cinema, DokuFest Prizren, Les États généraux du Film Documentaire, MakeDox, Milwaukee Film Festival, etc.
NOSOROGI, Restart, 2017