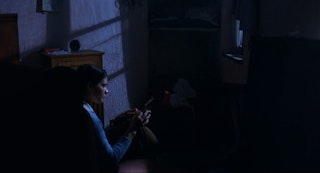 STORIES FROM THE CHESTNUT WOODS
Film
STORIES FROM THE CHESTNUT WOODS
The chestnut woods are a "forgotten place" where fairy-tale features and absurdist intrusions turn memories into what they really are: a mix of fact and fiction, a way of holding onto people and places and a way to let go of those exact same things.
A film by Gregor Božič & Marina Gumzi
with Massimo De Francovich, Ivana Roščić, Giusi Merli, Tomi Janežič, Janja Majzelj, Marko Brecelj, Matija Solce, Anita Kravos, Nataša Keser and Janez Škof
81', color, 16mm + 35mm
*
Director: Gregor Božič
Scriptwriters: Gregor Božič & Marina Gumzi
Cinematograper: Ferran Paredes Rubio
Original Score by: Hekla Magnúsdóttir
Editing: Gregor Božič with Benjamin Mirguet and Giuseppe Leonetti
Production Designer: Giovanna Cirianni
Costume Designers: Katharina Jockwer & Mateja Fajt
Sound: Jan Vysocky, Julij Zornik
Producer: Marina Gumzi / NOSOROGI (Slovenia)
Co-Production: Transmedia Production (Italy), RTV Slovenija (Slovenia) & Deutsche Film- und Fernsehakademie Berlin (Germany)
International Sales Agent: Cercamon
Slovenia / Italy, 2019
*
Festivals & Awards:
World premiere at Toronto International Film Festival - TIFF 2019
11 x VESNA AWARD at Festival of Slovenian Film 2019:
Best Film, Best Director, Best Male Lead, Best Photography, Best Music, Best Editing, Best Set Design, Best Costume Design, Best Make Up Design, Best Sound Design, Audience Award for Best Film

BEST FIRST FILM - Tallinn Black Nights Film Festival 2019
GRAND PRIX - 15th A l'est Rouen International film festival 2020
JURY AWARD - Nara International Film Festival 2020
JURY AWARD - MFNF Split International Film Festival 2020
CRITICS PRIZE - CinEast Luxembourg International Film Festival 2020
50th International film festival of India Goa; 43th Mostra Sao Paulo IFF; Glasgow International film festival; • 38th Istanbul film festival; 23rd Shanghai International Film Festival; 47. Film Fest Gent; Jerusalem international film festival, Trieste international film festival; Museum of moving image New York, etc.
Slovenian entry for the Best International Feature Film at the 93rd Academy Awards